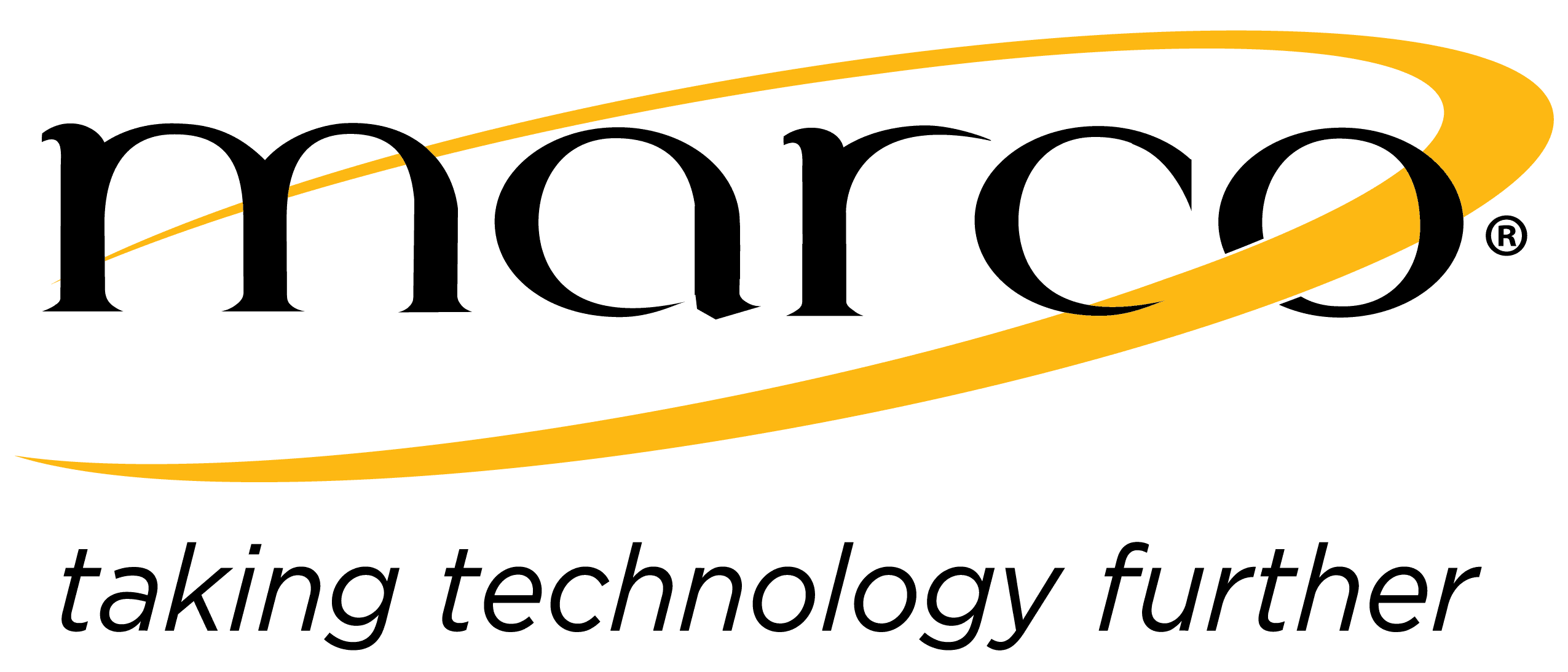 Marco Technologies LLC
Cloud Network Engineer
Rochester, MN•RochesterMinnesotaUnited StatesNorth America•December 10, 2023
Marco is a high-performing technology services company with a track record of creating rewarding careers. Whether you are early in your career ready for an exciting opportunity, or an experienced professional eager to elevate your skills with a Print & IT services and consulting industry leader, then you have come to the right spot.More about us. We make business technology
Simple. Secure. Better.
  We do it all – from hosted/cloud services, copiers/printers, managed services, phone systems, document management, business IT services and audio/video systems.  We are an organization with strong partnerships between sales and service.  We have hundreds of sales professionals, engineers, and technicians ready to fix any and all customer problems. With over 50 years in the industry, Marco has a Gold Standard Culture with a focus on employee engagement, client satisfaction, vendor partnerships, and community partnership.   Join our growing team. You won't regret it.The Cloud Network Engineer is responsible for providing quality cloud-based services and solutions to our internal clients while maintaining a high level of client satisfaction. This position works closely with the internal systems team and cloud services team in a coordinated effort to develop, design, implement, monitor, and support Marco's data centers and cloud-based systems.
ESSENTIAL FUNCTIONS:
Ensure availability of Internal IT resources.
Respond to monitoring alerts and tickets created by monitoring systems.
Troubleshoot and resolve problems.
Participate in team projects lead by project managers or peers.
Execute projects independently.
Organize and prioritize work with direction from the Data Center Manager.
Assist with the overall design and implementation of the technology stack within the Marco data centers with an emphasis on the Marco internal infrastructure.
Deploy and support resources in Azure and AWS.
Configure and manage switches, routers, firewalls, and other infrastructure equipment.
Maintain systems in accordance with baseline security standards following industry best-practices.
Create clear and accurate technical documentation for use by other teams.
Document work in tickets.
QUALIFICATIONS:
Bachelor's degree and two years of relevant experience; or equivalent combination of education and experience.
Current high level industry recognized certifications including one or more of the following: CCNA, CCNP, CCE, CC-XAD-MA, EMC-TA, VCP, or VCDX preferred.
Demonstrated experience supporting multi-site Cisco Enterprise WAN and LAN environments.
Experience including SDWAN architecture, web-based APIs, Cisco ISE/Firewalls, Azure, VMware, Linux, or other data center system services and tools preferred. 
Strong scripting skills (e.g. Powershel, CiscoCLI, Python, etc). preferred
Deep understanding of LAN and Internet IP networking and connectivity troubleshooting.
Ability to work confidently in production networks leveraging EIGRP, BGP, DMVPN, and NGFW technologies.
Exhibit working knowledge of Microsoft Windows and related applications.
Experience working in a 24/7 NOC environment for a cloud provider.
Knowledge of cloud infrastructure (firewalls, load balancers, DNS, DHCP, NAT).
A passion for process and automation and proactive network administration with attention to security.
Benefits:
 We're not just competitive when it comes to business tech – we're also pretty proud of what we offer our employees. Our benefits include medical, dental, and vision insurance. We also have paid holidays and vacation, 401k with generous company match, flexible spending accounts, employee purchase program, employer-paid life insurance, voluntary-term life insurance, short and long-term disability, critical illness and accident benefits, and pet insurance. Yes, we care about your furry family too.*all benefits are dependent on employment status    Equal Opportunity Employer /AA Employer/Minorities/Women/Protected Veterans/Individuals with Disabilities 
Applicant Labor Law Posters
Cyber Security Jobs by Category
Cyber Security Jobs by Location
Cyber Security Salaries