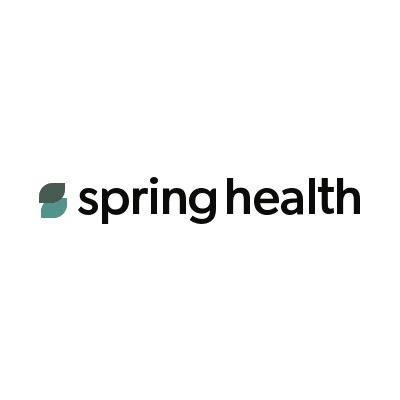 Spring Health
Security Engineer II
Our mission: to eliminate every barrier to mental health. 
Spring Health is a comprehensive mental health solution for employers and health plans. Unlike any other solution, we use clinically validated technology called Precision Mental Healthcare to pinpoint and deliver exactly what will work for each person  — whether that's meditation, coaching, therapy, medication, and beyond. 
Today, Spring Health equips over 800 companies, from start-ups to multinational Fortune 500 corporations, as a leading and preferred mental health service. Companies like J.P. Morgan Chase & Co., Microsoft, J.B. Hunt, Bumble, and Instacart use the Spring Health platform to provide mental health services to thousands of their team members globally. We have raised over $370 million from prominent investors including Kinnevik, Tiger Global, Northzone, RRE Ventures, and many more. Thanks to their partnership, our current valuation has reached $2.5 billion.
We are looking for a Security Engineer II to be part of our Security Operations & Engineering (SecOps) team. SecOps is committed to proactively detect, respond to, simulate, and identify breach attempts and threat actors. You will work with a team who oversee overall enterprise security systems implementation, lifecycle (S-SDLC), and support. You will help improve the company's ability to respond to threats through technology selection, internal product development and implementations with a heavy emphasis on automation of manual tasks and processes. We're looking for security engineers that can work collaboratively with our security, product, infrastructure architecture and engineering teams to implement secure solutions.
What you'll be doing
Design, build, maintain, tune and enhance the effectiveness of our security controls in multiple security domains including but not limited to:

Cloud security
Endpoint detection and response
Data loss prevention (DLP)
Security Information and Event Management (SIEM)
Identity and Access Management (IAM)

Build security automation to secure our corporate and cloud infrastructure and development environments
Participate in on call rotation, addressing most issues without assistance and escalate to Subject Matter Experts (SMEs) where needed
Assist peer teams in securing applications, business software and services, and infrastructure
Assist with the secure integrations of cloud applications and infrastructure
Develop and maintain technical support/knowledge base documentation
Develop and maintain security and incident response playbooks
Other duties as assigned. Management reserves the right to assign or reassign duties and responsibilities at any time
What we expect of you
Proficiency with Infrastructure as Code (Terraform, Terragrunt, CloudFormation, etc)
Familiarity with cloud platforms (AWS, Azure, GCP) and their security features, best practices and configurations
Proficiency with at least one programming or scripting language such as Python (preferred), Perl, Bash to automate tasks, analyze data and develop security tools
Ability to manage multiple tasks and projects simultaneously while effectively prioritizing based on risk and business impact
Strong knowledge of security principles, technologies and best practices including encryption, authentication, firewalls, intrusion detection/prevention systems and incident response
You are a dedicated, highly organized and motivated person who is passionate about security
You can work under deadlines in a fast-paced environment
Experience with security testing tools and techniques such as vulnerability scanning and penetration testing
Understanding of regulatory compliance standards such as GDPR, HIPAA, PCI-DSS or ISO 27001
Strong analytical and problem-solving skills with the ability to identify security risks and develop effective mitigation strategies
Excellent communication and collaboration skills, enabling effective interaction with both technical and non-technical stakeholders
Minimum of 2 years professional or technical experience with a strong background in all aspects of security tools administration and incident response
What we'd love to see as a bonus
Experience with threat modeling
Cloud security certifications
Experience with SIEM evaluation and implementation
The target salary range for this position is $105,000 - $125,800, and is part of a competitive total rewards package including stock options, benefits, and incentive pay for eligible roles. Individual pay may vary from the target range and is determined by a number of factors including experience, location, internal pay equity, and other relevant business considerations. We review all employee pay and compensation programs annually at minimum to ensure competitive and fair pay.
Don't meet every requirement? Studies have shown that women, communities of color and historically underrepresented talent are less likely to apply to jobs unless they meet every single qualification. At Spring Health we are dedicated to building a diverse, inclusive and authentic workplace, so if you're excited about this role but your past experience doesn't align perfectly with every qualification in the job description, we strongly encourage you to apply. You may be just the right candidate for this or other roles!
Ready to do the most impactful work of your life? Learn more about our values, how we work, and how hypergrowth meets impact at Spring Health:Our Values
Hypergrowth meets impact
What to expect working here:
You will be held accountable to an exceptionally high bar and impact
This may be the fastest work environment you will ever experience in terms of growth, decision-making, and time to impact
You will be challenged to set and protect your own boundaries
You will create processes & products that have never existed before
You will have very direct conversations and receive continuous feedback to push you to become the highest performer you can be
Change is a constant here: your role, team, responsibilities, and success metrics will shift as the company grows
And…
You get to be surrounded by some of the brightest minds in the field  
You get to learn and grow at an extremely accelerated pace
You will experience transparency, integrity, &  humility from leadership 
You will be empowered to constantly challenge the status quo
You get the space to experiment & innovate
You get to make a transformational impact for the company, mental health, and for real human lives — and you will see that impact quickly
You will become more resourceful and resilient
You get to be part of a winning team that opens doors in the future
Benefits provided by Spring Health:
Your Total Health:
Generous medical, dental, vision coverage available day 1 + access to One Medical
20 total yearly no-cost visits to the Spring Health network of therapists, coaches, and medication management providers for you and your dependents
Flexible paid time off in addition to 12 paid holidays throughout the year
$500 per year Wellness Reimbursement
Access to Gympass, an on-demand virtual benefit that provides wellbeing coaching, and budget management.
Spring Health provides access to QuitGenius, a platform with technology-tailored, personalized addiction treatment plans for substance use (*QG is available to benefit-enrolled employees, spouses, and dependents age 18+)
Sabbatical Leave: When you're a Team Member at Spring Health and hit your four-year Springaversary, you'll be awarded afourweek, fullypaid, sabbatical leave. 
You And Your family:
4-4.5 months of fully paid parental leave
Spring Health provides team members and their families with sponsored access to Bright Horizons® child care, back-up care, and elder care.
Access to Joshin is provided by Spring Health. Joshin is a comprehensive support system for disabilities and neurodivergence in the workplace. This benefit supports employees, their families, and our teams through personalized navigation and disability education and training along with a network of screened in-home caregivers with disability and neurodivergent experience. 
Access to fertility care support through Carrot, in addition to $4,000 reimbursement for related fertility expenses
Supporting you financially through:
Our People team benchmarks all salaries using theRadford Global Compensation Databasefor technology and life sciences industries. Radford benchmarks salaries with 3,589 global firms, 6.5 million employees, and 98 countries across the globe. We do this to ensure all of our team members are paid equally and competitively.
On top of competitive and benchmarked salary, Spring Health offers incentive pay (based on role), and equity that begins vesting as we celebrate your first year with the company!
Employer sponsored 401(k) match of up to 2% after 90 days of employment
Creating a culture you can thrive in:
Flexible work arrangements: 60% of Spring Health team members work fully remote while 40% work in a hybrid model from our New York City offices
Focus Fridays: no meetings, no distractions, just time for you to get work done.
Focus Weeks: In Spring 2023, we held our first ever Focus Week, we canceled all non-essential meetings, minimized distractions, and you, our team members, to dive into the key work that gets chopped up or deprioritized during the regular day-to-day. We saw a 36% jump in the average energized score after those five days of flow state work and are finalizing a plan for quarterly Focus Weeks for team members.
Up to $1,000 Professional Development Reimbursement per calendar year.
$200 per year donation matching to support your favorite causes
Our privacy policy: https://springhealth.com/privacy-policy/
Spring Health is proud to be an equal opportunity employer. We do not discriminate in hiring or any employment decision based on race, color, religion, national origin, age, sex, marital status, ancestry, disability, genetic information, veteran status, gender identity or expression, sexual orientation, or other applicable legally protected characteristic. We also consider qualified applicants regardless of criminal histories, consistent with applicable legal requirements. Spring Health is also committed to providing reasonable accommodations for qualified individuals with disabilities and disabled veterans. If you have a disability or special need that requires accommodation, please let us know.
Cyber Security Jobs by Category
Cyber Security Salaries